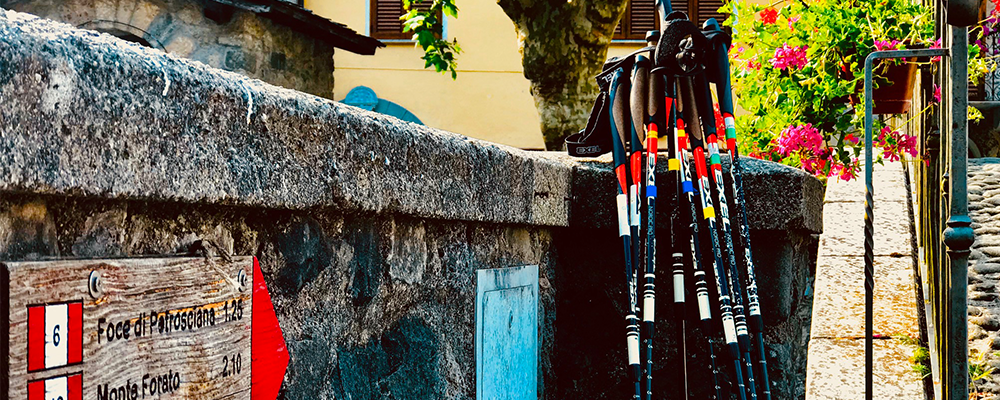 EXEL Poles & Pizza - A Tuscany Adventure
With June temperatures soaring in the UK, we headed out to the Garfagnana region of Tuscany for a week of Nordic Walking and culture, Tuscany Style. Our routes took us into the Apennines and Alpi Apuane mountain ranges, the Cinque Terre coastal path; and of course, sumptuous cuisine!
With routes chosen with our Members ability in mind and to stretch comfort zones just a little! we were able to take our group to some super accessible peaks.
In the Apennines, we journeyed through stunning beech and chestnut forests on excellent tracks, as we 'topped and tailed' the week by reaching the summits of Pania di Corfino and Monte Prado (2054m) respectively, the latter being the highest peak in Tuscany. Whilst in the Alpi Apuane mountains we 'pushed the poles' to the infamous 'rock arch' and far reaching views to the coast on the summit of Monte Forato.
Happy Days on the summit of Monte Prado (2054m)
Keeping with a popular post-walk tradition of ours, we like to indulge at a local cafe or gelateria to sample and support 'local produce' ice cream and coffee!
After burning tons of calories, we were rewarded each evening with either hearty home-cooking at our Agritourismo or at one of the many excellent local restaurants I've been lucky enough to try over the last 3 years of visiting the valley. The Garfagnana Valley produces a huge range of produce throughout the year, including fruits, veg, grapes for vino (...rather good too!), farro and chestnuts in abundance (boiled and eaten, ground for flour, used in beer production and the clarification of wine). In the surrounding wooded hills can be found porcini mushrooms, conghiale (wild boar), deer, various game birds; and in the R.Serchio that shaped the valley, the most excellent trout. Being a relatively remote valley until post-war, throughout generations the occupants have mastered the art of using all available produce for self-sufficiency and wider trade. Albeit, at the cessation of WW2, many locals faced either starvation or relocation; resulting in hundreds of families relocating to Glasgow, where they set up fish & chip shops and ice cream parlours. In the last 25 years, families have returned to their roots, and now not uncommon to hear broad Glaswegian accents in local stores and taxis.


EXEL Poles & Pizza! what more could you want?
With poles stashed in rucksacks, we took the train to the Ligurian coast to Nordic Walk a section of the World Heritage Cinque Terre trail. After adjusting poles, we tread the 366 zigzag steps from the rail station to the village of Corniglia perched high on the cliffs, ensuring a visit to an excellent Gelateria to help cool down from the searing heat. Our walking route to Vernazza, took us high along traversing olive groves on a dusty path, which at times was one walker wide!
Using our EXEL adjustable poles, we were able to pack them as 'hold luggage', safely transport them around our various journeys and use them to great effect in powering us up and down the mountain, whilst in Italy. They were used on all of our treks in Italy, Morocco, Alps, the Cairngorms in winter; as well as to the summit of Kilimanjaro in March '18.

Gemini Outdoors' next trip to Tuscany is in September 2018 for more details you can contact Steve via email steve@geminioutdoor.com
Steve Ellis is a Nordic Walking National Coach with Gemini Outdoor, based in Malmesbury; in addition to a packed weekly Nordic Walking programme, Steve organises and leads Nordic Walking trips to various overseas and UK destinations including Tuscany, Morocco, Alps, Pyrénées and Kilimanjaro, as well as the Brecon Beacons, Peak & Lake Districts, Snowdonia and the Cairngorms, in his capacity as an International Mountain Leader. Steve also teaches Nordic Walking in schools around the Wiltshire & Gloucestershire area.
View Gemini Outdoors website www.geminioutdoor.com