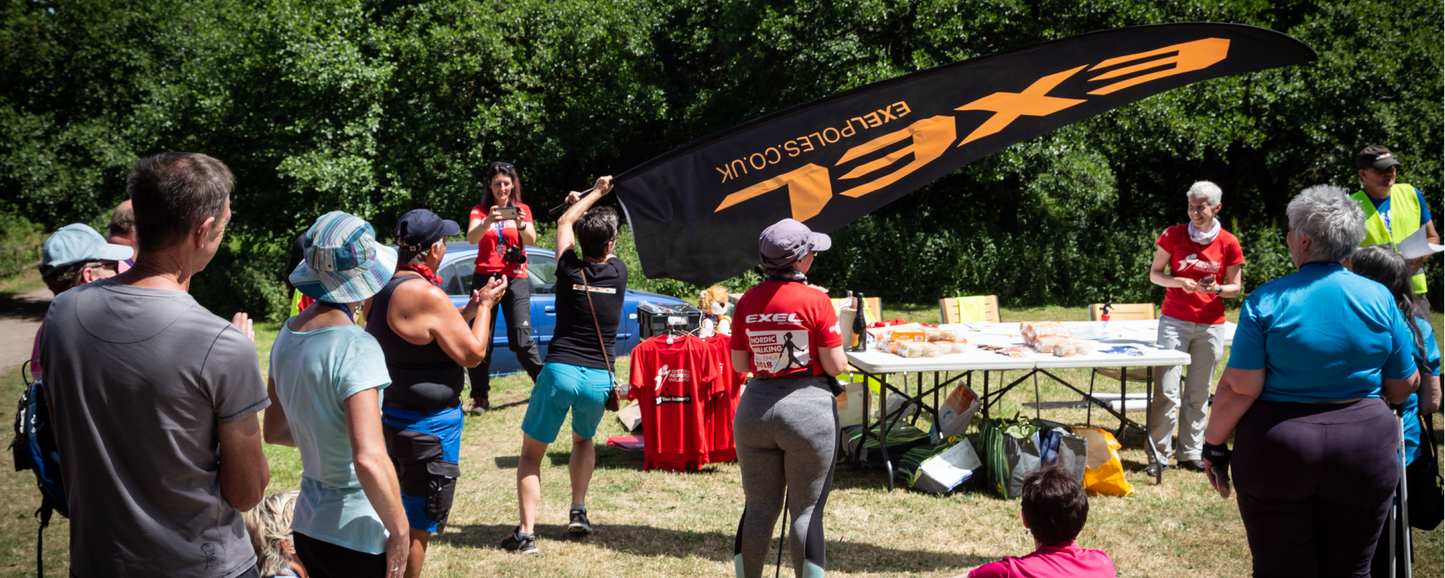 EXEL Nordic Walking Challenge - Fourteen Locks
If there's one thing us Nordic Walker's love, it's a good get-together, we're a sociable bunch! 
Photo Credit: Michelle Chalkley. Team Valleys Nordic Walking.
If there's one thing us Nordic Walker's love, it's a good get-together, we're a sociable bunch! Every year, British Nordic Walking holds a series of challenge events around the UK; it's a wonderful opportunity to take part in a timed event, to visit new places, and to meet old and new friends who share a passion for exercising in the great outdoors and all things Nordic. I attended my first Challenge event in 2015 and have attended every year since. I've been a Nordic Walking Instructor since 2016, having set up Valleys Nordic Walking, and one of my goals has been to encourage my walkers to challenge themselves (if they so wish). I also bribe them with the reward of bling!
Photo Credit: Tracey Paddison Photography. Exel Challenge Medal.
This year I was asked if I could help out, along with another instructor, with organising the Welsh event at Fourteen Locks Canal Centre near Newport. To say this process was a learning curve is an understatement – the amount of work which goes into organising these events was an eye opener, to say the least! But this is where partnership working and community came into play. Between the staff and volunteers at Fourteen Locks going over and above what was expected of them - even working long hours on their days off (thank you, Kate!) - to the sponsors, the volunteer marshals who gave up their Sunday to ensure the participants stayed safe on the course, to the other instructors who helped out on the day – the whole community came together to make the event happen. One of the main sponsors was EXEL Poles UK; as always Karen and Paula were in attendance with an array of poles, spare parts, and an abundance of sage advice and expertise on all things pole related. Lots of walkers and instructors find the face-to-face contact with EXEL at events useful for answering pole queries, myself included! Plus, we got a sneak preview of the new 2018/19 EXEL pole designs and very nice they are too! 
Photo Credit: Kath Bowen. The Valleys Nordic Walking Team show off their bling!
But what of the day? The sun shone (and not the liquid sunshine usually associated with Wales), homemade Welsh cakes were devoured, and Nordic walkers came from far and wide; the 10k Nordic Walking World Champion, Melvin Oluwagbemi, travelled from Paris to attend and blew us all away with a finishing time of 1h 08m. We had first-timers, old hands, children, seniors, and every age and ability in between. We had those striving to break their personal records, those who stuck together as teams, and those who were there simply to take part and enjoy the beautiful scenery. There were new faces, and those faces you see year after year at events. Friendships forged and maintained through a love of Nordic Walking. The Nordic Walking community may be small in comparison to others in sport, but my goodness, we're close-knit! As one of my walkers who attended for the first time remarked:
"I couldn't believe the atmosphere, everyone was SO friendly and encouraging, it was like a big Nordic Walking family!"
And that's what we are a Nordic Walking family. Roll on the next challenge event!
Follow Valleys Nordic Walking on Facebook @ValleysNordicWalking